Arrange a large set with a menu of Nham Nueng , Vietnamese food, rich ingredients, fragrant roasted pork wrapped in spring roll with fresh vegetables. Topped with sweet dipping sauce. Okay… invite friends to come around for deliciousness.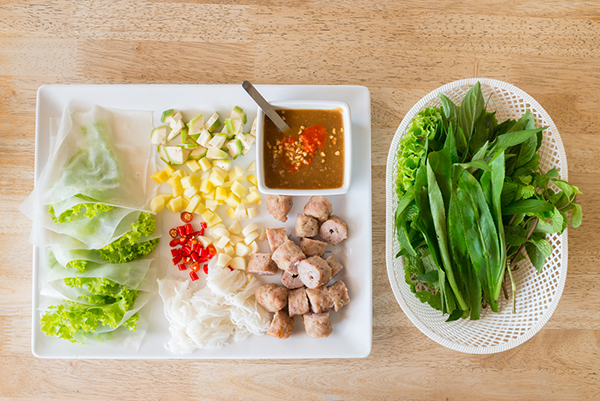 Who likes to eat Vietnamese food? Same Especially the Namnueng menu Do you want to come on holiday on your own? We offers a method for making Nam Nueng. Comes with the method of making roasted pork, naem nueng and namnueng sauce. Served with fresh vegetables Eat with mellow sour sauce
Ingredients of Nam Nueng Set
Grilled Pork Nam Nueng
Vietnamese Spring Rolls (Cut into square sheets)
Namnueng sauce
Side dish such as fresh vegetables, cut into small pieces such as raw banana, sweet carambola, garlic, chili
Fresh vegetables for eating such as Praewa, mint, basil, lettuce Hom
Kanom Jeen or Boiled Rice Vermicelli
Ingredients Roasted Pork Nam Nueng
Pork with mashed potatoes 500g (chilled to make the mixture sticky)
1 Tbsp minced garlic
1 tsp baking powder
1/4 tsp sea salt
1 tsp fish sauce table
2 tablespoons sugar
1/4 teaspoon pepper
1 tbsp vegetable oil
2 tablespoons cold water.
1 tablespoon cornstarch,
Naem Nueng dipping ingredients
1 tablespoon raw glutinous rice
1 tablespoon rinded green beans
4 cups water (for boiled rice)
2 teaspoons groundsoy sauce
2 tablespoons black soy saucered chili minced
1 tablespoon salt
2-3 tbsp palm sugar or brown sugar
4 tbsp tamarind juice
4 tablespoons vinegar
2 tablespoons coarsely ground peanuts
How to make roast pork
Put the chilled minced pork into a food processor or blender. Followed by chopped garlic, baking powder, salt, fish sauce, granulated sugar, pepper, vegetable oil and a little cold water. Blend until smooth and fine. Put it in a container and knead it again. Cover with preservative plastic and refrigerate. Marinate for at least 2 hours.
When the time is up, bring the ground pork out. Put the cornstarch into it. Knead until smooth and the mixture is sticky. Then mold the mixture into balls like meatballs. Or form a long stick, skewers prepared.
The pork that is blended to steam until cooked Then continue to grill Or put into the oven Until fragrant and beautiful yellow. Prepared.
How to make Namnueng sauce
Boil sticky rice and mung beans in water over medium heat until cooked soft Set aside until warm, then whisk until smooth.    
Pour it back into the pot. Put soybean paste, black soy sauce, chili powder, salt, palm sugar, tamarind juice And vinegar Turn on the heat, simmer until boiling, taste as you like.    
Put the sauce into a cup. Sprinkle the ground roasted peanuts into it. Served with naemnueng set
This noon, let's invite friends to have fun with Nham Nueng wrap. There are methods for making Grilled Pork, Namnueng and Namnueng sauce. Do it yourself, guarantee full value