Today we have a simple way to make chicken rice, just one recipe will help you make your own chicken rice at home through a simple process. Which is attached with how to cook a delicious chicken rice sauce Plus many more tips for making chicken rice. If you are ready, let's take a look at how to make this great recipe for chicken rice.
Note: 1 dish of chicken rice provides approximately 585 kcal.
 We would like to offer you a method of making chicken rice that you can cook yourself at home, not too difficult. If you like dry meat without it, choose the brisket. If you like the sticky one, choose the drumstick or the wings, if you like it soft, greasy, hip, etc.
How to make chicken broth
Chinese cabbage or 1 head of fresh hang sesame (need to choose fresh place to sweeten)
Garlic 3 –4 heads (approx. 30 cloves)
Coriander roots 5–6 roots
Old ginger (sliced) 5–6 glasses
Lightly smashed ginger
Pepper White (rough hammered) 20-30 tablets
1-2 tablespoons of sea salt
sugar 1/2 tablespoon
2-3 tablespoons soy sauce
1/2 tablespoons vegetable oil,
How to make chicken rice
Put all the ingredients in a saucepan, put on a strong fire. Boil for at least 30 minutes.
When is the time over, add all the chicken. Keep a spoonful of air bubbles left.
   Note:  Always keep a timer. If the chicken is raw, it cannot be eaten. Usually takes about 1 hour to boil after adding the chicken. Always scoop some bubbles away.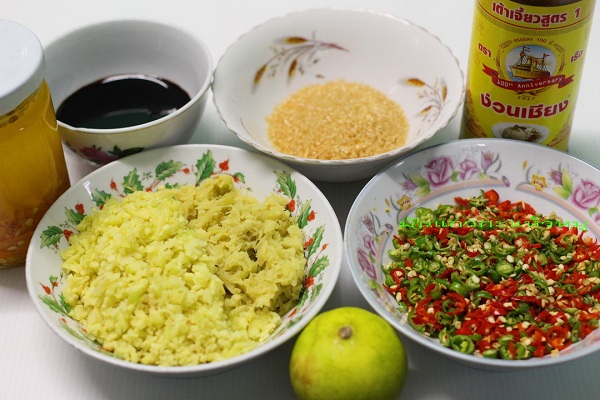 6 Tbsp Soybean Paste
1 Tbsp Granulated Sugar ► 3 Tbsp
Old Ginger (Minced)
1 Tsp. table
fresh green chillies – 2 tablespoons red alley
vinegar 2 tablespoons pickled chilli stirred
1 tablespoon sweet soy formula 1 
1 lemon half
How to make Chicken Rice Sauce
Put the bean paste into the cup (Should taste first that How salty is the bean paste that I have bought? Some brands are very salty.
sugar
crushed old ginger and minced old ginger. 
the green-red chilli paste 
vinegar, pickled chili. Squeeze lemon juice into it. (To remove the smell) 
Sweet Soy Sauce (If you don't want the color very dark, you can reduce it to 1/2 tbsp. Recommending using Formula 1, Nguan Chiang, creamy cap is good. Molasses should not be used. 
Stir the mixture to dissolve together, taste as you like.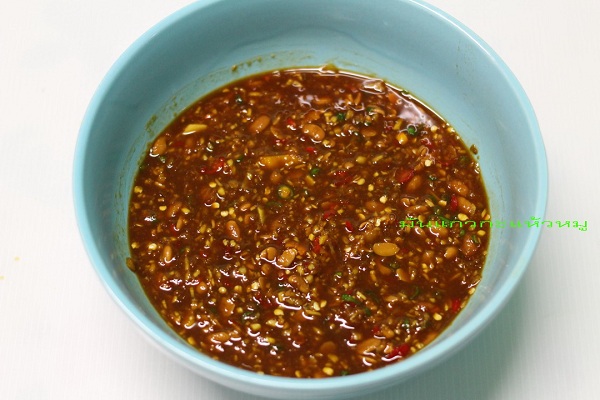 Ingredients of Khao Manchai
Old fragrant rice (If possible, use old fragrant rice would be good Which is not new fragrant rice in the beginning of the season Or rice in Na Pi Hai Hai What about this)
oil
garlic
slice ginger glasses
Table 1 / 2-1 teaspoon
1 teaspoon sugar.
1 ladle broth.
How to make rice?
Wash the rice thoroughly. 
Heat a wok, add a little vegetable oil. Add minced garlic and ginger slices and fry until fragrant.
Add the washed rice ufabet and stir.
Spoon the chicken oil from the chicken pot and fry the rice. (As far as possible to spoon out With soup attached, it's fine. Use a stainless steel mosquito net like this. The spoon of oil came out pretty well.)
Add sea salt, rock sugar and broth and stir well on medium heat to stir until the original clear rice grains begin to turn cloudy like glutinous rice grains. And the rice starts to dry, stick to the pan, turn off the heat, remove from the stove, put it in the rice cooker
Scoop chicken water into the rice cooker. 
Open the lid of the rice cooker and use a spoon to gently scrape the rice to mix the oil from the bottom of the cooker with the rice. (First time cooked if salty or too tasteless Next time, adjust the proportion. 
Prepare chicken choc with cold water By putting ice cubes into a container And add water Then put the boiled chicken into a bowl of cold water (the method is when it is cooked, take it out of the pot and immediately immerse it in cold water) and let it sit for 5-10 minutes 
Scoop up, drain the water and use vegetable oil to spread the chicken skin evenly (you can use a brush or hand. Up to convenience)
Let it rest for 3–4 hours (the chicken skin is still beautiful yellowish white Constantly firm, not red, bruised, speckled or rancid in any way)
Chopped chicken into pieces and served.